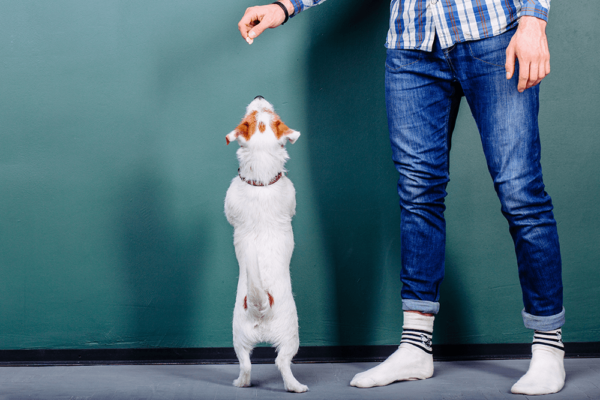 Our Puppy Preschool covers all your puppy training needs
Give your puppy the best start in life!
---
As a new pet owner learning to understand your puppies behaviour is invaluable, and puppy training classes are a great idea. During the ages of 8-16 weeks, puppies absorb new information much easier and quicker than after this age. This makes puppy training so important, so we provide a dedicated puppy preschool. Its also a great way to meet new puppy friends, and be exposed to environments.
What is Puppy Preschool:

This 4 week course is run in partnership with Lyn Spathis who has over 30 years experience working with dogs. Classes are made up of up to 6-8 dogs in a safe indoor facility. Our groups are focused to optimise puppy training and learning.
Classes will be held at The Dog Den in Takapuna, in our day care facility
We cover basic obedience & socialisation to get your pup to be comfortable, focused & following your directions.
We also cover:
Toilet and crate training
Learning positive training techniques
Puppy problems e.g. mouthing, jumping up, etc
Basic obedience skills: recall, sit, down. lead walking
How to enhance puppy/owner relationship
Puppy parents will also gain an understanding of canine communication, to help understand how your puppy is feeling.
We will provide an introduction to doggy day care.
At the end of the 4 weeks, your puppy will be presented with a personalised graduation certificate and a voucher for 1 full day or two half days, day care at The Dog Den.
How to prepare for our puppy training classes at Puppy Preschool:
Your puppy should wear a collar and be on a lead (no choker chains please). Bring a mat or blanket for your puppy to sit on. This will be his or her safe and 'calm' area.
Please don't feed your puppy before the class and instead bring your puppies dinner kibble or high-value treats with you to be used as a training aid.
We suggest you bring along some of your puppies favourite treats and perhaps a "chewy" to keep them occupied while we are talking.
Please do not bring your puppy to class if he/she is unwell. We suggest that you still attend the class yourself to observe what is being discussed.
Please toilet your dog before coming to class.
How to enrol:
Dates:
18th June (Programme completed)
23rd July (Programme completed)
3rd September (Programme completed)
1st October (Programme completed!)
29th October (Programme underway)
26th November (Programme full)
21st January 2021 (Enrolments open)
Enrol online (see below)
Cost is $165 and a great investment
To ensure the best protection for your puppy, puppies will need to have had their 1st vaccination to attend.
About our Trainer Lyn: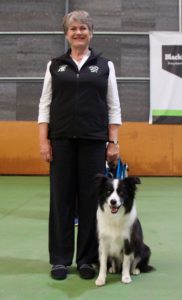 Lyn is the proud owner of two Border Collies, Cobber and Gusto. Her life and passion is all about dogs! She has worked as a veterinary nurse for over 30 years, taking puppy classes during this time, and also works as a dog walker.
One of her hobbies is Competitive Dog Obedience  and she has attained  the title of Obedience champion with two of her dogs. She also enjoys instructing at the North Shore Dog Training Club. In July 2020 Lyn and Cobber achieved the title of Obedience Grand Champion.
Her aim in taking puppy classes is to encourage, and see develop positive relationships between people and their pups.
Terms and conditions
All dogs must have had their first set of vaccinations to attend. The Dog Den is sanitised daily to a very high standard. All dogs attending are fully vaccinated. Every attempt is made to prevent any spreading of disease, although this cannot be guaranteed 100%

To prevent the spread of infections between centres, we have a stand down period of 7 days if any dog goes to another dog daycare centre or kennel. So if you puppy attends another dog daycare centre they must have 7 clear days before they can attend our puppy class. 

Up to 2 persons per dog may attend. More by prior approval. We don't want the experience to be overwhelming for the dogs

If your dog is sick, please let us know and don't attend. We will either organise for you to join the same session on another programme, or supply you with the information missed, or organise a replacement session.

By enrolling for this programme you give us permission to hold your data in accordance with our privacy policy (see main Terms and Conditions at bottom of page).

Payment must be made in full before the programme starts. Payment can be made on-line through our on-line store. Or in person at The Dog Den via Eftpos or credit card.

We will start promptly at 7pm, so please be here by 645pm.

The course contents remain the intellectual property of Lyn Spathis and The Dog Den Limited.
CANCELLATION POLICY

Because the course is arranged in advance, and costs are incurred, once the course has commenced, i'm afraid we are unable to make a refund. If you wish to cancel please contact us at least 48 hrs before the first session.